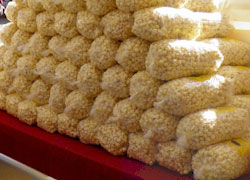 We make the very best Kettle Korn possible and our prices are very competitive.
If you love Kettle Korn then you will love our delicious
handmade Kettle Korn
. If you are an event coordinator and want to include Kettle Korn at your next event we'll be happy to help. The Old-Fashioned Kettle Korn Company is located in the heart of the beautiful Shenandoah Valley of Virginia, near Harrisonburg.
Our method of making Kettle Korn is not that different from how many other vendors make their Korn, however, we belive that you will find our Kettle Korn is better.
What makes our Kettle Korn better?
A key difference is in the equipment we use. We have custom designed our kettles and other equipment in-house to our own specifications to produce a better korn. Our equipment is locally built by an expert fabricator. The custom fabrication is what allows our equipment to perform over and above the competition to produce a cosistantly better product.
We have five kettles currently in three differing sizes which enable me to serve events ranging from small community festivals all the way to the mega-events with attendances of over 200,000.
At The Old-Fashioned Kettle Korn Company we use only the highest quality ingredients to make The World's Best Popcorn.
We use gourmet mushroom style popcorn grown in the mid-western part of the United States. The popcorn has not been genetically modified, and all ingredients are 100% natural.
We are fully compliant with all health department regulations and adequately insured. Our Korn can be found at Arts & Crafts Shows, Fairs, Festivals, Sporting Events, Open Houses, and many other public events. We serve the mid-Atlantic region and currently have scheduled events in Virginia, West Virginia, Maryland, Delaware, Pennsylvania, North Carolina and South Carolina.
Our local Kettle Korn store is located at the Shenandoah Heritage Market just south of Harrisonburg, Virginia on Rt. 11. The store is normally open Monday thru Saturday, 10am to 6pm. It is easily found using I-81 exit 243, or exit 240.
At the store you will find Kettle Korn along with White Cheddar Cheese Korn, Old Fashioned Theater Style Korn, and tasty Plain and Barbequed Pork Rinds.
On select Saturdays we also have Fresh Squeezed Lemonade and Deep Fried Oreos for you to enjoy.
We are always ready to serve at your festival or other event. We take great pride in making Kettle Korn and should you wish to have a Kettle Korn vendor at your event please contact me by clicking the "Contact Us" button on this website, or call us at 540.421.4996
Americans today consume 17.3 billion quarts of popped popcorn each year. The average American eats about 68 quarts.